Unique Gift Ideas for Mom
If you love relaxing in a warm bath at the end of a long day you are going to LOVE today's collection because it's packed full of gorgeous smelling DIY bath bomb recipes!
Read More
If you're looking for a centrepiece that will be a real talking point with your guests you're going to love this video tutorial that shows you how to make gorgeous DIY water candles!
Read More
We've searched high and low for as many beautiful DIY projects we could find that featured flowers, and boy do we have some fabulous ideas to inspire you!
Read More
We were so excited to find these DIY soap recipes! Whether you want to make some for yourself for a relaxing soak in the bath, or to give as gifts for friends you are going to be spoilt for choice with these ideas!
Read More
Pin these ideas! Hit the button to save these ideas for later. Don't forget to follow us on Pinterest for more great stuff! & Succulents are the perfect way to bring a little greenery into your home which is why today we've rounded up 30 gorgeous DIY succulent planters that you can make at home this weekend. As well as making some of these pots for yourself they will also make unique gift ideas for Mother's Day and even Teacher's Appreciation week! DIY Succulent Planters 30. Make your own marbled clay succulent pots Found it here >> A Beautiful Mess These pinch pots are super easy to make, look fabulous and don't cost a lot. So you have money left over to feed your succulent addiction... 29. Repurpose a stylish candle holder as a planter Found it here >> Cherished Bliss From candle holder to succulent planter. Very clever. 28. Make your own wooden planter 27. Make mini succulent planters as party favours Found it here >> Circus Berry If you're planning a party or even a wedding and you're stuck for ideas as what to use for favours make some of these mini succulent holders. 26. Repurpose a toothbrush holder as a planter Found it here >> Kittenhood No one will ever guess that this stylish planter started out life as a toothbrush holder! 25. Make your own cement planter Found it here >> Home DIT It's easier than you think, and you can use a baking pan as mould! 24. Make your own dipped succulent plant holders Found it here >> Cupcakes, Cocktails and Kids These dipped glass holders are beautiful, and started out life as a wine glass. 23. Turn an IKEA RASKOG cart into a succulent planter Found it here >> Succulents and Sunshine IKEA hack
Read More
Do you remember making stuff with clay when you were a kid? Well this weekend why not have a go at making yourself a gorgeous necklace! These marbled polymer clay necklace ideas are perfect for making for yourself or as a gift for a loved one. Speaking of which Mother's Day is just around the corner and we bet mom would love one of these.
Read More
Stuck for ideas for a gift to show mom how much you care? Check out our Mother's Day gift guide for some great ideas.
Read More
If you've ever drooled over a terrarium in a store you know how SUPER expensive they can be to buy. But the great news is they are SUPER easy to make and you don't even need to be that crafty!
Read More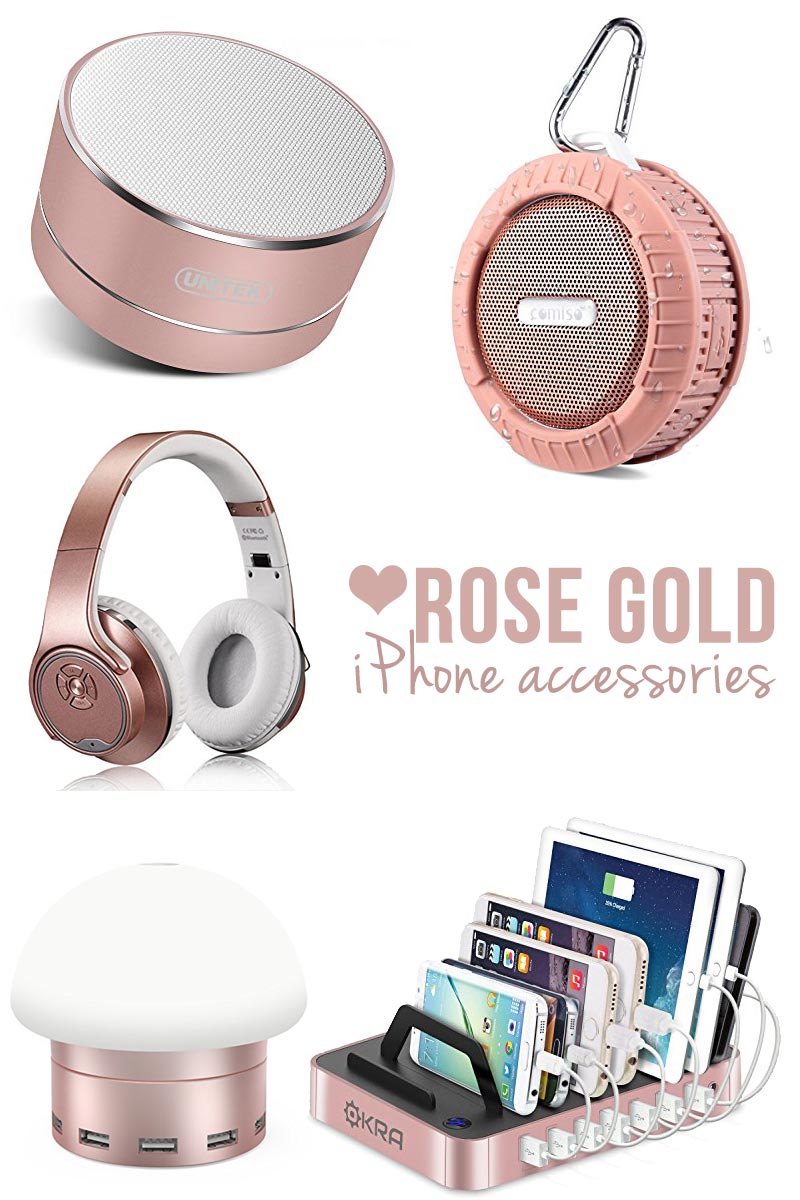 If you are in love with your metallic pink phone you are going to LOVE these Rose Gold iPhone accessories. From taking your tunes into the shower to charging up your phone on your nightstand we've got all the gadgets you need! 5 Fabulous Rose Gold iPhone Accessories For the price I wasn't expecting these headphones to be very good - boy was I wrong! Super simple to sync with my phone and the sound quality is brilliant. They're really comfortable to wear and I love that I can twist the earmuff piece around to turn them into speakers! This GORGEOUS rose gold wireless speaker is smaller than a hockey puck yet your music still sounds great! The battery lasts for ages and the bluetooth makes it so easy to sync with your iPhone (or any other smartphone!) So happy I can now take my music into the shower thanks to this Rose Gold waterproof speaker! It stays stuck on the bathroom tiles and I leave my phone out in the hallway well away from the steam! It's perfect for BBQs and camping trips too! I really wanted a light for my nightstand so I can read in bed and when I saw this Rose Gold lamp I knew it was the one! The light is just bright enough to read by and it's super useful to be able to charge my phone or iPad up right next to my bed! Where has this thing been my whole life?? The gorgeous rose gold makes this charging station look really classy, and it stops everyone's devices getting in a jumble! &
Read More