This post may contain affiliate links, which means I may receive a commission if you click on a link and purchase something. As an Amazon Associate I earn from qualifying purchases.
Smoothies are a great way to start your day because they're packed with vitamins and nutrients and protein and all that good stuff. And if you prep the ingredients in advance they're quick and easy to make too which is great if you need to "drink" breakfast on the run. But somedays you want to eat breakfast at a more leisurely pace right? Maybe even use a spoon? Well smoothie bowls are the hottest breakfast trend right now and we guarantee you've never seen a more beautiful breakfast. They don't call them Beauty Bowls for nothing!
How do you make a smoothie bowl? Pretty simple really. Take your favourite smoothie, pour it into a bowl and then add your topping of choice. Fruit, oats, maybe even some granola! But the real trick is to make it so beautiful you can't help but start your day with a smile. Here's some of our favourite smoothie bowls to inspire you!
12 Smoothie Bowls

12. Rainbow Green Smoothie Bowls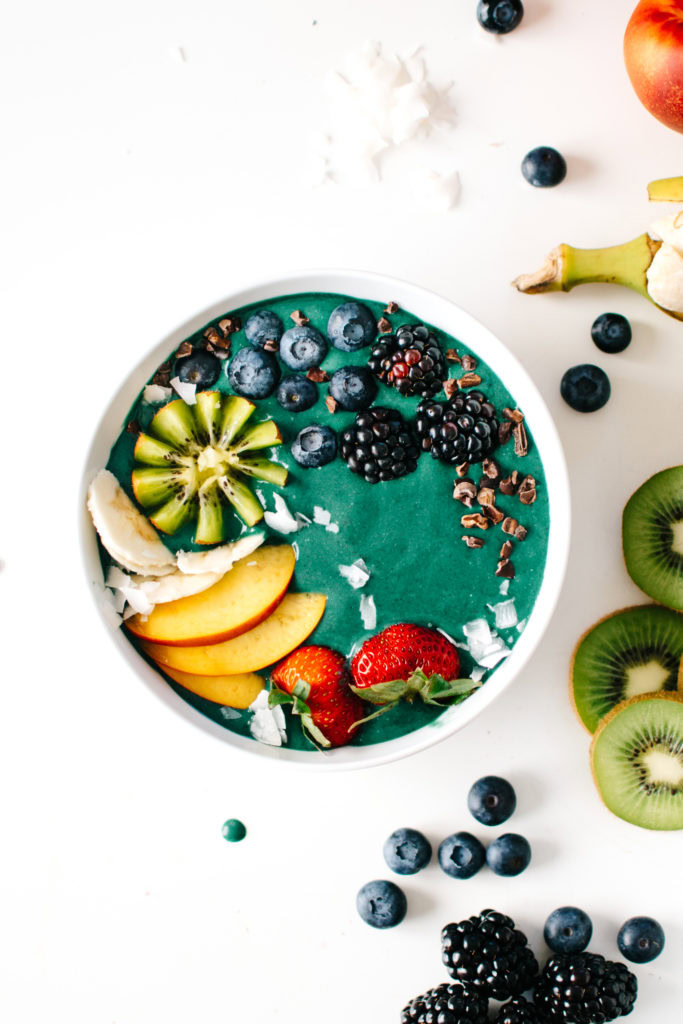 Found it here >> Kale & Caramel
This GORGEOUS bowl makes us want to sit back, close our eyes, and imagine relaxing on a remote island by the sea. The spirulina blue green algae is a superfood, rich in protein, vitamins and nutrients. And how beautiful are those kiwi flowers??
You can easily get spirulina blue green algae here.
11. Blueberry Coconut Smoothie Bowl (Vegan, Gluten Free)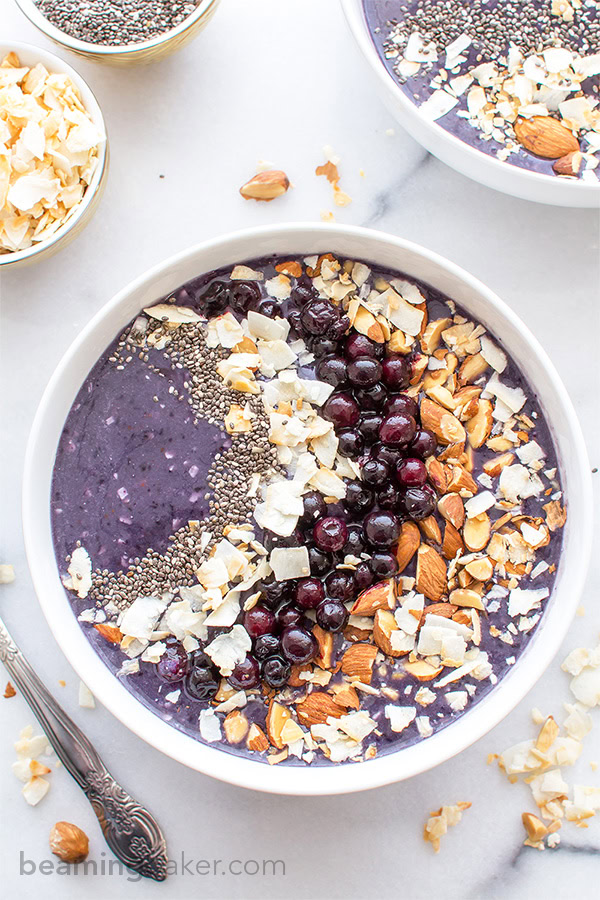 Found it here >> Beaming Baker
If you are well aware of the goodness that is packed inside a tiny blueberry but just cannot bring yourself to eat them you need to try out this Smoothie Bowl. The colour is just amazing, and pairing those blueberries with banana and coconut makes them taste delicious!
If you need some chia seeds you can find some here.
10. Rainbow Unicorn Protein Smoothie Bowls
Found it here >> Green Smoothie Gourmet
Oh yes you totally read that right. These adorably pretty smoothie bowls are unicorn inspired and the perfect breakfast choice to spend quality time with your little lady!
9. Raspberry and Almond Smoothie Bowl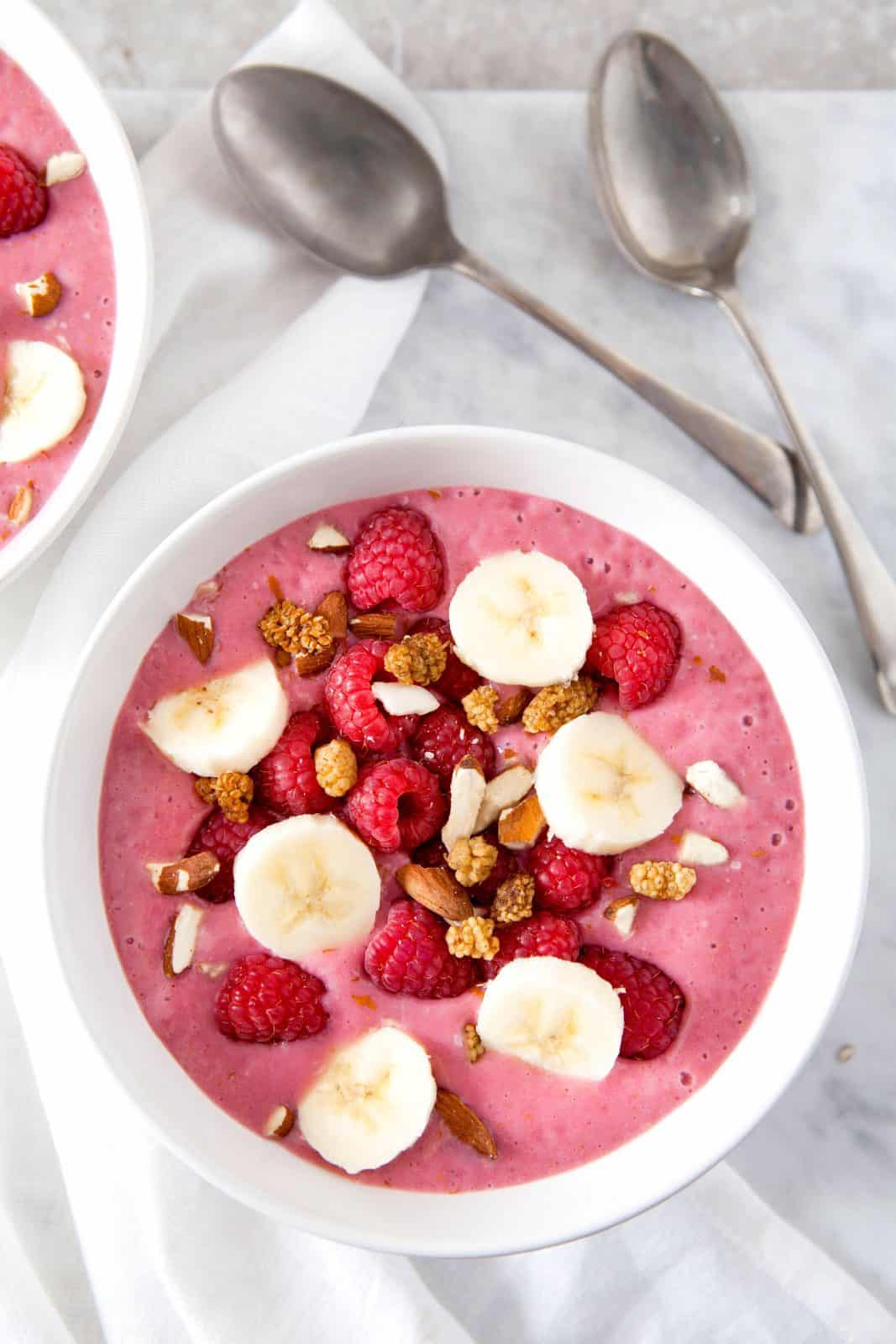 Found it here >> Goodness is Gorgeous
Loving this fabulously pink smoothie bowl! Top with fresh fruit and nuts for a delicious start to the day.
Rated Reads
Superfood Smoothie Bowls: Delicious, Satisfying, Protein-Packed Blends that Boost Energy and Burn Fat
Beautiful Smoothie Bowls: 80 Delicious and Colorful Superfood Recipes to Nourish and Satisfy
A Rainbow of Smoothie Bowls: 75 Wholesome and Vibrant Blended Creations