'Tis the season for pinecones to be falling from the trees. And if your kiddos love to collect them as much as mine do this is the collection for you!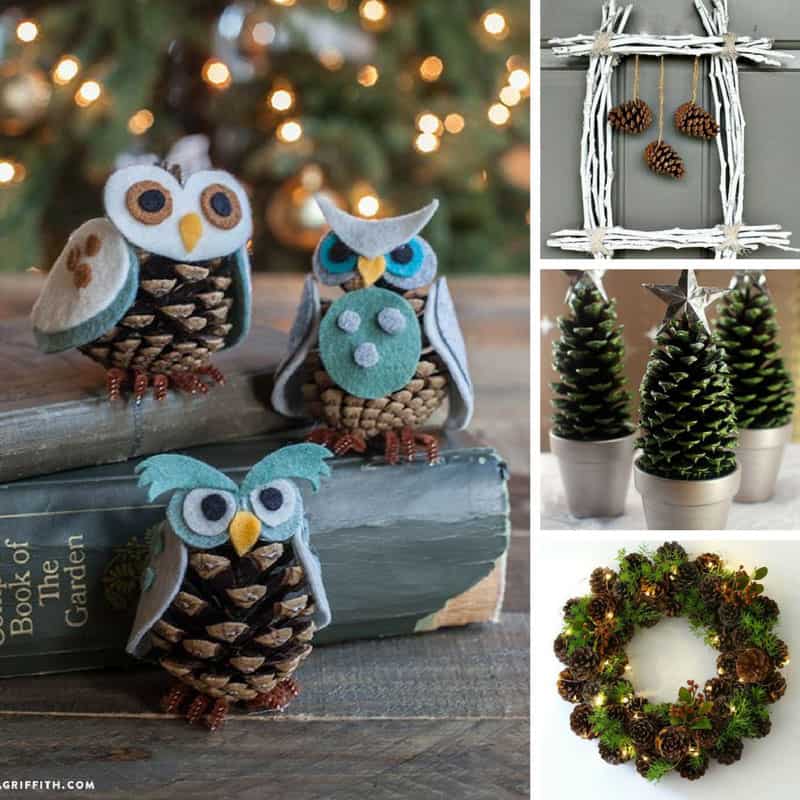 Easy Pinecone Crafts

There's just something about pinecones that makes you feel all kinds of festive isn't there? My kiddos love to collect them so we always end up with piles, and there's only so many bowls I can fill. So I turned to Pinterest to see if I could find some other ways to decorate our home using pinecones this Christmas. And what d'ya know, there are so many ideas we're going to need more pinecones!
I found everything from Christmas trees in adorable terracotta pots, to the cutest owl ornaments, oh and elf ornaments too. And then a DIY that's going to take a little time and effort, but will be so worth it, to make some pinecone fire starters!
Don't forget to scroll all the way to the end so you don't miss any of the bright ideas, and be sure to hit the save button on your favourites so you can find them again later!
Related Posts:
Pine Cone Christmas Trees

These Christmas trees would look festive on your mantel or as a centerpiece. Look out for the mini pots at the Dollar Store, and you'll also need some craft paint, glitter and some stars as toppers. (via Scissors and Spoons)
Pine Cone Wreath

This rectangular twig wreath makes a nice change from the usual circular design. It's really simple to make and the pine cones add a lovely festive touch. You could even paint or glitter up the pine cones if you liked. (via Taryn Whiteaker)
Bleached Pinecones

If you're a big fan of natural decor at Christmas this is the pine cone craft for you. I think the bleached pinecones look lovely with that velvet ribbon! (via Stone Gable)
Skiing Pine Cone Girls

Oh how adorable is this pine cone girl on skis! There's not instructions for this one, so you can just take inspiration from the picture. Click through to see he skiing pals! (via Bella Dia)
5 Minute DIY Christmas Centerpiece with Pinecones & Berries

I love quick and easy crafts, and this pine cone centerpiece looks so fabulous no one will believe it took you less than 5 minutes to put together! (via Julie Blanner)
Pinecone Christmas Trees

Here are some more pinecone Christmas trees but this is a craft you can do with your kids. You could use them to decorate your own home or maybe their fairy garden! (via Our Mini Family)
Pine Cone Owl Ornaments

Oh how adorable are these owls! They'd make a fabulous gift for a nature lover and are a great way to use up your felt scraps! (via Lia Griffith)
Felt and Pine Cone Elves

Or how about using the felt to make some little elves instead? You'll need some 1 inch wooden beads for their heads and some teeny jingle bells for their hats! This is a craft that's simple enough for you to make with the kids. (via https://liagriffith.com/felt-and-pine-cone-elves/)


Pinecone Elf Ornament

Here's a similar elf craft but I wanted to show it to you so you can see how they can be used as ornaments on the tree too! (via Life Your Way)
Make an Easy DIY Pinecone Wreath in One Hour

Ok was I really just dissing circular wreaths? I take it all back because this one is beautiful and I love that you can make one in about an hour! (via Remodelholic)
Gorgeous Frosty Pinecone Craft

Oohh so pretty! My daughter is going to have a blast making these because she has a thing for going over the top with glitter and that's just what you need with this craft! (via Kids Craft Room)
How to Make Cinnamon-Scented Pinecones (Two Easy Tutorials

What a brilliant idea to scent the pine cones so they make your room smell festive as well as looking pretty as a centerpiece! (via eHow)
Yarn-Wrapped Pinecones

Here's another craft you can do with the kiddos! They get to practice their fine motor practice and you get to use up your yarn scraps and finish up with some unique festive decor! (via A Pretty Fix)
Learn How to Make Your Own Pinecone Fire Starters

If you have an open fire at home you have to make some of these. And if not they would make a fabulous Christmas gift for someone who does. Thinking about it they'd make pretty cute party favours (or even December baby shower favors) too! (via Something Turquoise)
Related Posts:
Pin these ideas!
Hit the button to save these ideas for later.
Don't forget to
follow us on Pinterest
for more great stuff!

&
---