Try something new this Fall with one of these fabulous pumpkin recipes for your Instant Pot. We've got wholesome dinner ideas and delicious desserts!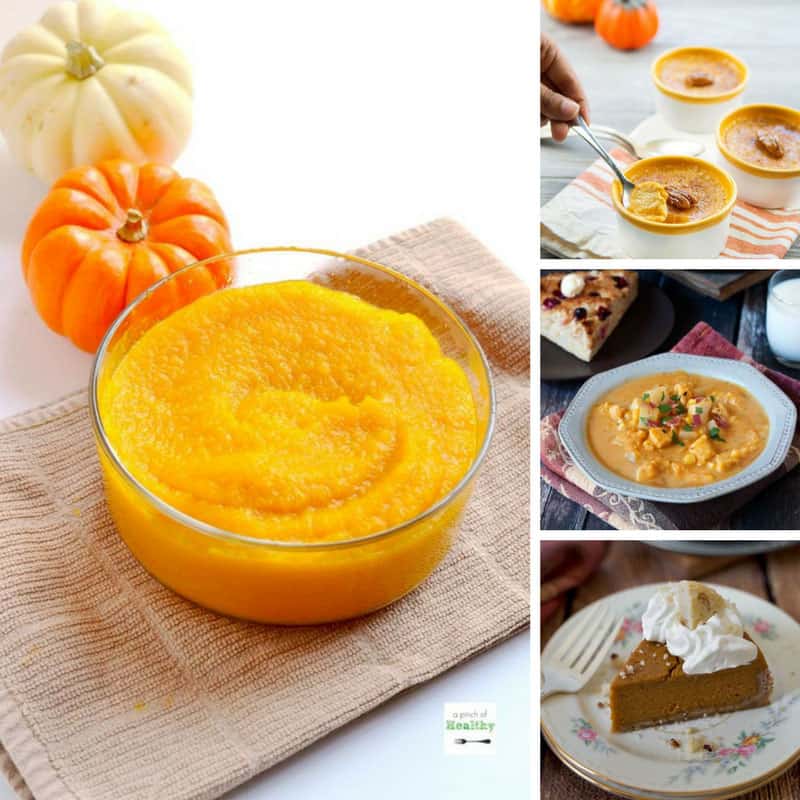 Pumpkin Recipes for Your Instant Pot

Those clever Instant Pots really are taking the world's kitchens by storm and I'm doing my best to find as many recipes as possible for you to put yours through its paces. Since we're heading into Fall it only seemed fair that we should have a collection of Instant Pot dinners and desserts dedicated to the fabulous pumpkin!
I found everything from pumpkin soup and pumpkin chowder to pumpkin spice creme brûlée and of course a pumpkin cheesecake or two!
As always be sure to scroll all the way to the end so you don't miss any of the great ideas. And don't forget to pin your favourites as you go!
Related Posts:
Instant Pot Pumpkin Puree

Let's start out with this super easy way to make pumpkin puree. And when I say super easy I mean you don't need to peel, cut, de-seed or even pierce your pumpkin ahead of time. You just put the whole thing into your Instant Pot and let it get to work! Just take note of the tip about taking your tape measure to the store with you… (via A Pinch of Healthy)
Instant Pot Diet Pork and Pumpkin

If you love freezer meals then add this recipe to your meal plan. It's super easy to make in your Instant Pot ahead of time and then on serving day you just pop the frozen container back into the Instant Pot and let it prepare dinner. (via Once a Month Meals)
Instant Pot Pumpkin Soup

You can't beat a nice bowl of hot soup on a cool Autumn evening and this pumpkin soup is full of Fall flavours. All of the ingredients are plant based so it's vegan as well as gluten free. As well as your trusty Instant Pot you will also need an immersion blender or high powered blender to make it nice and smooth. (via The Foodie Eats)


Pressure Cooker Pumpkin Chicken Corn Chowder

This pumpkin chowder is deliciously spicy and has chunks of chicken and potatoes. Serve it up with some yeasted cranberry cornbread and your family will be begging for seconds! (via Pressure Cooking Today)
Instant Pot Vegan Three Bean Pumpkin Chili

If your family love chili for dinner on a cool evening you'll want to try this recipe with a pumpkin twist that cooks in your Instant Pot. It's a vegan recipe but if you're serving it up to meat lovers they'll have no idea because of the Beyond Beef Feisty Crumble that's used to add protein. (via The Local Taste)
Instant Pot Pumpkin Chocolate Chip Cake

What do you get if you combine chocolate chip cake with pumpkin and an Instant Pot? A deliciously dense cake that's won't last for very long as everyone will ask for seconds! To make this cake you'll need a 2 cup bundt pan and your Instant Pot. (via Southern Family Lifestyle)


Instant Pot Pumpkin Pudding (allergy-friendly!)

You can put that bundt pan to good use to make this yummy pumpkin pudding too! It's perfect for potlucks and parties because it's dairy-free, gluten-free, grain-free, and also low in sugar! (via Traditional Cooking School)
Instant Pot Pumpkin Apple Cake

This yummy apple and pumpkin cake also cooks in a bundt pan right inside your Instant Pot. Drizzle it with icing for a tasty dessert, or skip the icing and eat it for breakfast! (via The Typical Mom)
Cheater Gingerbread Pumpkin Cake in the Instant Pot

Ha! I love that this is a cheater cake, because not only is it made in the Instant Pot which can be considered cheating enough… it's also made from a yellow cake mix! (via Home Pressure Cooking)
Pressure Cooker Pumpkin Pie

If you like a traditional Thanksgiving with Pumpkin Pie then put this pressure cooker version to the test. It has a classic pumpkin pie filling with a Pecan Sandies cookie crust. You'll need a 7 inch springform pan to "bake" this in your Instant Pot. (via Pressure Cooking Today)


Pumpkin Cheesecake (In the Instant Pot)

A few weeks back I rounded up a collection of Instant Pot dessert recipes and it featured quite a few cheesecakes because they're a really popular pressure cooker treat. So of course we have to have one today, with a pumpkin twist! (via The Cents'Able Shoppin)
Pressure Cooker Pumpkin Cheesecake

Oh look and here's another one, because no two cheesecake recipes are ever the same even when they feature pumpkin as a main ingredient! I love that this one is topped with crumbled ginger snaps! (via Pint Sized Baker)
Instant Pot Pumpkin Spice Creme Brulee

If you love creme brulees but have always been too terrified to make them yourself now is the time to let your Instant Pot step in and help you! You don't have any of the traditional heating up cream and praying the eggs have been tempered correctly. Nope you just mix all of the ingredients together, pour into ramekins, cover with foil and then let your pressure cooker do the rest! You'll be rewarded with sophisticated creme brulees complete with crunchy caramelized sugary topping! (via Picture the Recipe)


Instant Pot Vegan Pumpkin Coffeecake Steel-cut Oatmeal

If you love oatmeal for breakfast you have to try this pumpkin coffeecake recipe! Not only is it vegan and gluten free but you can freeze it in individual portions for a make ahead breakfast to enjoy on busy days! (via Healthy Slow Cooking)
Pumpkin Instant Pot Cover pattern by Aunt Janet's Designs

Ok this one isn't actually a pumpkin recipe, but if you crochet (or know someone who does) it's a pattern to make the most adorable pumpkin cover for your beloved Instant Pot! (via Ravelry)
Related Posts:

Pin these ideas!
Hit the button to save these ideas for later.
Don't forget to
follow us on Pinterest
for more great stuff!
&
---