Channel your inner Joanna Gaines with these wonderful Farmhouse Christmas decor ideas… Fixer Upper inspired wreaths, rustic Holiday signs, farmhouse pillows and even a Hot Cocoa Bar! They're all gorgeous and just what you need to festive up your home this Christmas!
This post may contain affiliate links, which means I may receive a commission if you click on a link and purchase something. As an Etsy and Amazon Associate I earn from qualifying purchases.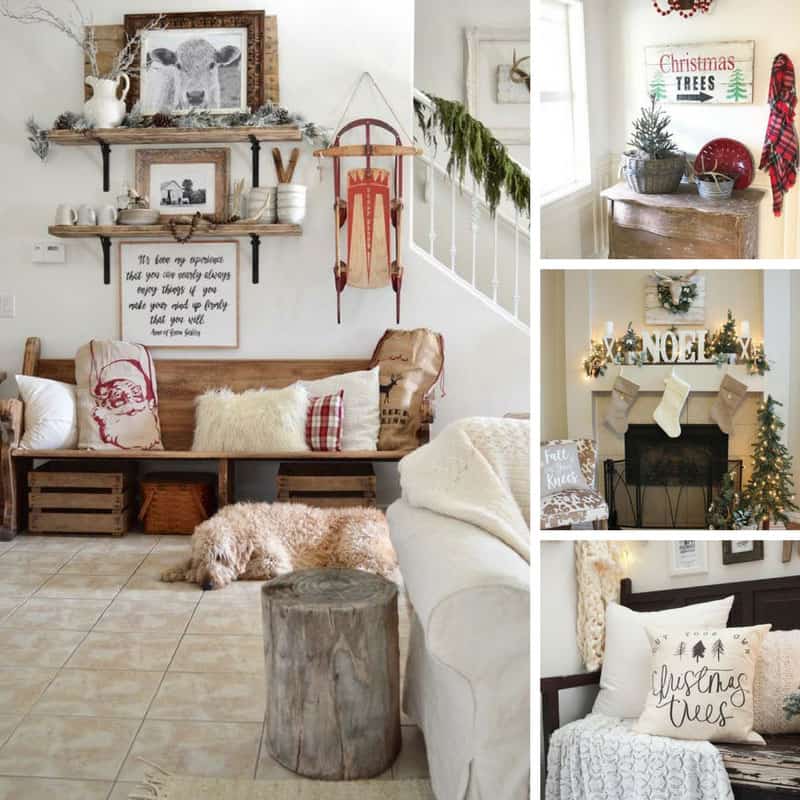 Make sure you save the farmhouse Christmas decor pictures on Pinterest so you can find them again later.

1. Welcome Guests with a Beautiful Farmhouse Christmas Wreath
Christmas starts at your front door right? There's no better way to get your visitors in the festive spirit than by welcoming them with a gorgeous farmhouse Christmas wreath!
If you're torn between cotton, magnolia or fir (like I am) then treat yourself to more than one and hang one in the kitchen or your bedroom too!
Here are my favourite picks from Etsy, just click on the pictures for more information.
2. Decorate Your Entry Way with Farmhouse Christmas Signs
Totally in love with this vintage style Christmas Trees for sale sign hanging in the entry way of this farmhouse home.
I found these farmhouse inspired Christmas signs, just click on the pictures for more information.
3. Snuggle Up with Festive Pillows
Adding festive pillow covers is a quick and easy way to decorate your living areas, and they're perfect for snuggling up on cold winter evenings!
Check out these fabulous farmhouse Christmas pillows! Click the pictures for more information.
4. Add Colour and Texture with Throws and Blankets
Don't forget to add some blankets and throws to add texture and even a pop of colour!
5. Trim Your Tree with Fixer Upper Inspired Ornaments and Decorations
When it comes to trimming your farmhouse tree the more ornaments you add the better! Invest in large packs of shatterproof baubles in your base colour and then add in some of these gorgeous Fixer Upper inspired decorations and ornaments.
Bright Idea: If you're on a tight budget position your tree in a corner and then you only need to decorate the front of it!
6. Decorate with Reindeer
There's just something about reindeer that brings a festive farmhouse feel to your decor. You can use them as centerpieces, hang ornaments on your tree, or hang a deer head on your wall!
Click on the pictures to get more information on these deer pieces.
7. Hang Some Gorgeous Farmhouse Christmas Stockings on the Mantel
Of course Christmas isn't complete without a stocking hanging from the mantel, stuffed with thoughtful little gifts from you or from Santa!
I found so many gorgeous farmhouse Christmas stockings which you'll want to use year after year. Many of them can be personalized too. Just click on the pictures of the ones you love to see more information.
8. Fill Burlap Santa Sacks with Gifts
This Christmas themed entry way has a really inviting feel, the plaid cushion adds a pop of colour and the burlap Christmas Santa sacks are adorable!
See something you like? Click the picture for more information.
9. Warm Up From the Inside with a Hot Cocoa Bar
What better way is there to warm up after a cold day outside than with a nice warm cup of cocoa. Turn a dresser top into a Cocoa Bar so that your family and friends can fix their own hot chocolate. And don't forget the oversized marshmallows!
10. Countdown to Christmas with a Rustic Farmhouse Advent Calendar
For more farmhouse Christmas decor ideas click play on the video below. The advent calendar is totally darling!
Farmhouse Christmas Decor DIY Ideas
If you have time on your hands to get crafty before the Holidays check out our favourite DIY farmhouse Christmas projects!
Pin these ideas!
Hit the button to save these ideas for later.
Don't forget to
follow us on Pinterest
for more great stuff!

&
---