The best bit about BUJO layouts is that they can change each month, so here's a whole year's worth of monthly Bullet Journal themes to inspire you and get those creative juices flowing!
Monthly Bullet Journal Themes
Do you know the thing I love most about my Bullet Journal?
Unlike a planner which you're pretty much stuck with for the whole year your BUJO can change and grow with you as you figure out your favourite type of Bullet Journal weekly spread, or test out new Bullet Journal tracker ideas.
But perhaps even better than that is the fact you get to pick a new theme each month if you want to!
And there are so many amazing themes and ideas you can use in your journal, which is why I'm putting together a whole year's worth of Bullet Journal themes to inspire us all!
It's an ongoing project so make sure you save this page to Pinterest so you can come back next month for more inspiration!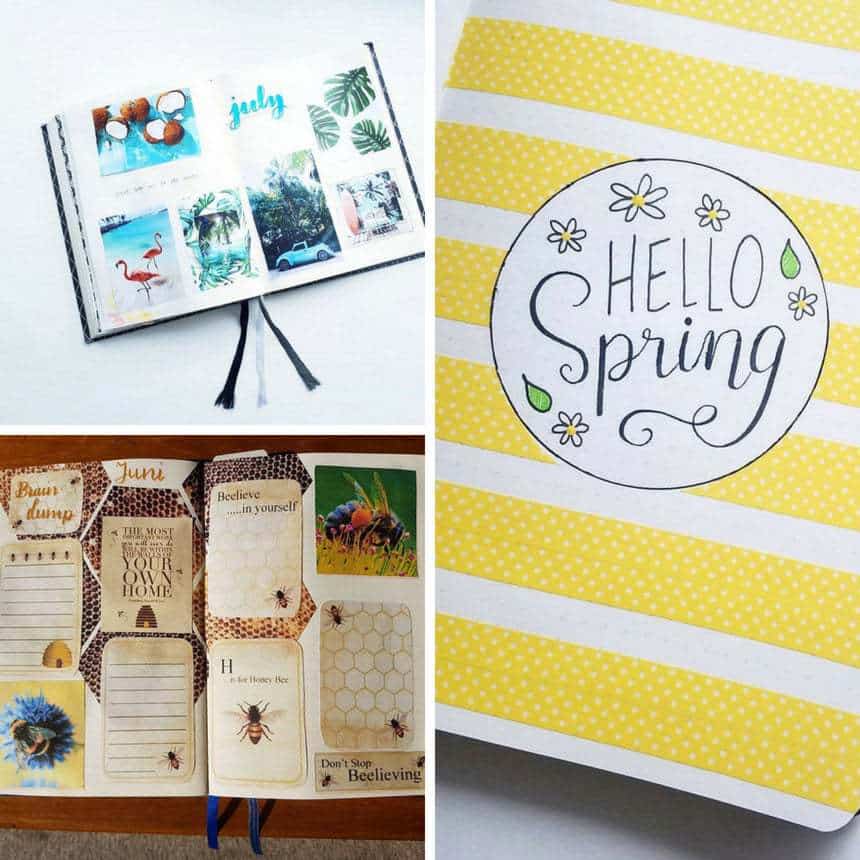 Bullet Journal Supplies
You can theme your Bullet Journal each month with nothing more than some coloured pens, but if you want to let your creative side run wild you might want some extra goodies to play with!
Here are the supplies you can use to turn your Bullet Journal into something more creative.
Washi tape for bullet journals
I can't believe I'd never even heard of Washi tape until I stumbled upon the more creative side of bullet journalling! It's a paper based tape you can find in most craft stores, and the dollar stores often carry it too.
There are various styles including cartoon characters, glitter, solid colours, or designs. You can also buy seasonal designs for Halloween, Christmas or Valentine's Day!
You can use this tape to decorate the sides of your journal pages, to separate entries, or to mark off goals.
Stickers for bullet journalling
Stickers are a super simple but super fun way to decorate your Bullet Journal!
You're not limited to using kids' stickers either. There are an increasing number of stickers showing up in craft stores and online that allow you to express yourself through wording, inspirational quotes, or a fandom you may belong to.
You can even treat yourself to a monthly subscription to have cute stickers delivered to your door or even use a little machine (like this) to make your own!
Markers and highlighters for your bullet journal
Markers and highlighters can help you colour everything from the date of your entry to goals and pages as a whole.
Keep in mind these are better for journals that are made of heavy pages rather than composition notebook style journals where the colours will bleed through.
Using scrapbooking accessories for bullet journalling
There are so many scrapbooking accessories you can use to dress up and make your journal pretty. You can play around with everything from stickers to embellishments and even full page inserts.
Take a look at the scrapbooking section at your local craft store (or on Amazon) and get creative.
You can even make your own journal just from the things you find in scrapbooking stores.
Once you start decorating your journal and trying out some of these monthly Bullet Journal themes you might want to set aside a monthly budget so you don't go mad buying supplies! Of course the other thing you can do is put them on your Christmas list!