Last month I shared my very first Blogging Income and Expenditure with you. I realised that i spent a lot of time blogging and not much time actually sitting back, reviewing my results and seeing what was working and what wasn't.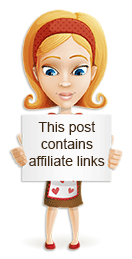 By sharing this information with you every month I'm holding myself accountable to complete this important task.
If you are running your blog as a business, that is to say if you are trying to earn an income from your blog rather than just writing for fun, then I would highly recommend you sit down at the start of each month and review your income, expenses and blog stats for the previous month to check you are on track to meet your goals.
Are you ready to dive in to August?
Show me the money
Income for August
Media Nexus – $74.98
Adsense – $36.36
Escalate – $47.65
Moms Affiliate – $40
Amazon $16.36
Infolinks – $14.05
Peerfly – $7.63
Sovrn/Lijit – $6.80
Amazon Kindle Royalties – $3.85
Vigilinks – $3.48 (Switched to skim links half way through August)
Media Net – $2.24
Skimlinks – $0.79
Rivit – $0.73
Switch ads $0 (not running ads this month)
Total Income $254.92
Expenses for August
Keeping the lights on
Miscellaneous expenses
Total expenses $151.63
Profit this month $103.29
Thoughts on income
Media Nexus are now standing head and shoulders above my other advertisers. I've been assigning them the top three banner ad spots but I'm thinking about letting Adsense compete to see if they can beat the CPM in any situations.
I'm really disappointed with the performance of Sourn and Media Net. I added a 728×90 under the Pinterest image on my most popular posts so they get 1500+ impressions each day and the performance is dismal. I've just been accepted to another CPM network but I'm waiting for them to set my ad tags up and I'll assign that ad slot to them instead as a test.
I decided to give Skimlinks a try half way through August and switched over from Vigilinks (they do the same thing) and I've been disappointed there too. Vigilinks generated $3.48 for the first two weeks and Skimlinks only generated 79 cents for the second two weeks when traffic was higher. I've switched back to Vigilinks for September and I'll see what happens.
I signed up for Mom's Affiliate and did my first underwritten post with them this month. $40 is low for an underwritten post but I was happy to bid for that one. If you're not a member of Mom's Affiliate already I recommend signing up with them.
I did a happy dance when I saw I had Amazon earnings this month! I usually only make money with them at Christmas time so it's good to see that my strategy of including an Amazon link in every post where possible is paying off.
I added some Peerfly CPA links into my Free Baby Stuff post this month and that is doing ok as well. Essentially CPA is Cost Per Action and the reader has to give their email address in return for a freebie. Some of the campaigns look a bit dodgy but I found a couple of campaigns for nappies (diapers) and formula.
Some notes on expenses
Just the same lights on expenses this month. I love that my CoSchedule fee has gone down to a dollar thanks to other people signing up through my referral link.
The Shutterstock fee is for some stock photography I needed for a sponsored post that should go live in September. I usually use Pixabay for stock photos as it's free but they didn't have what I needed so I had to buy 12 credits from Shutterstock instead.
Want to see some traffic stats?
The other thing I thought I'd share with you is some snapshots from my Google Analytics account to show you how my traffic is growing month on month. After all the more traffic we have the more likely we are to make money from our blogs. The numbers in brackets are last month's figures.
Page views for August
Total pageviews – 44,225 (24,487)
Total unique pageviews – 33,299 (19,879)
Total visitors – 29,454 (17,941)
Total unique visitors – 26,606 (16,051)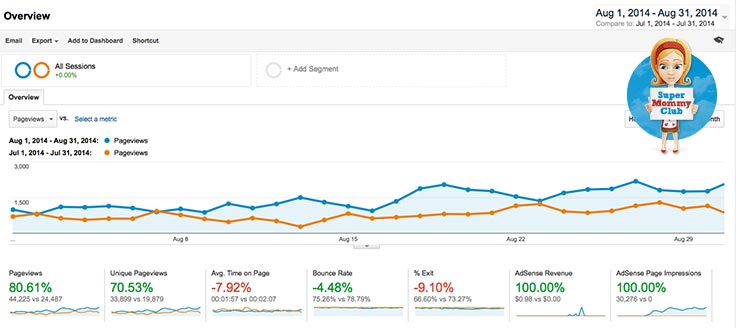 The graph shows my August pageviews (blue) against July's (orange). I'm so excited to have had an 80.61% increase in pageviews month on month and I broke a new target by having a couple of 2,000 pageviews days.
I've been adding in Related read links into my posts to try and encourage people to read something else when they've finished, and also adding popular posts in the sidebar.
One thing I need to investigate further is why the average time on page has fallen by nearly 8%.
Oh and ignore those AdSense numbers, I don't think I had Google Analytics linked up to AdSense properly!
Traffic sources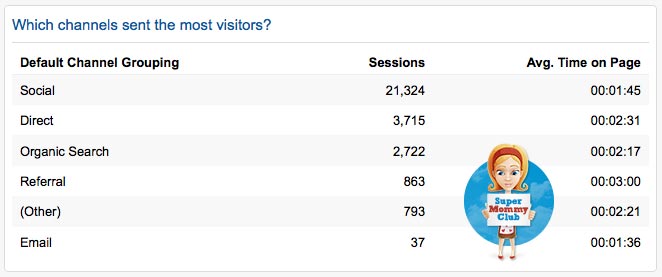 Social media channels (including Pinterest, Facebook and Stumbleupon) are still my number one referrer of traffic, but organic search referrals are growing too which is good because I've been putting a lot of effort into SEO for my posts and my site as a whole.
One thing I can see from this screenshot is that a meagre 37 sessions came from my newsletter. I need to work harder on growing my subscriber base and then sending out great content that makes readers want to come back to my site.
Devices used to browse my site

Here's an interesting stat, the majority of my readers are accessing the Super Mommy Club on their smart phones! That really surprises me, especially when tablets are in number three. This moth I'll be taking a look at my site on my mobile and checking that the user experience is a good one. I'm so glad I bought a Genesis responsive theme now.
If you would like to know which social channels are sending you the most traffic, or which devices your readers use to access your blog you can see all that information in my
Google Analytics Dashboards
.
RPM for August
Each month I'll include my RPM, which stands for page revenue per thousand impressions. This will show me how effectively I'm monetising my blog.
As the months go by the figure should increase, so I'll put last month's RPM in brackets.
RPM for August = $5.76 ($3.88)
I'm really pleased to see that number going in the right direction!
You can find out more about what RPM is and how to calculate it by reading this post on RPM here.
Super Mommy Club follower numbers
I also want to use this report to take a snapshot of my follower numbers. I started all of these accounts in January with no followers (except for my personal google plus profile which had about 500) and my goal for each of them was to have 1000 followers by the end of 2014.
Note: the numbers in brackets are the follower numbers for the previous month.
Google + Personal 1673 (1660)
Twitter 1694 (1539)
Pinterest 1472 (1198)
Instagram 200 (195)
Google + Page 116 (85)
Newsletter Subscribers 120 (68)
Facebook Likes 1042 (557)
Talking about 365 (95)
Talking about percentage 35% (17%)
Post reach 3360 (1379)
I've been posting content to all of my social media outposts this month but I have only been trying to grow my follower base on Facebook, and it looks like it paid off as I've finally broken that 1000 follower target!
I was worried that my talking about score would fall but it's actually increased too. (You can find out how to calculate yours in the July income report).
I still don't love Facebook though, I find it really hard to post content that readers want to see. At the moment I'm getting excellent reach if I share topical parenting stories from the news (or videos of Downton Abbey trailers), but if I post new content from my blog, or kid's activities from other bloggers there is tumbleweed.
My experience of schedulers is mixed. I've had posts with excellent reach go out from Post Planner as well as tumble weed posts and I don't think it's down to how you post, more what you post. The thing is that topical news needs to be posted that day so I've started just manually sharing stuff as and when I find it. That means some days I have a cluster of two or three posts at once, then nothing for hours, then another cluster of two or three and Facebook doesn't seem to mind that.
The one thing that I think really gave my numbers a boost is an activity we've started within my blogging tribe of sharing each other's Facebook pages. Once a week we share a page from another member of the group and that always gives my likes a boost. The good thing is that because we are all in similar niches the followers are being introduced to another page they might like to follow.
Book of the month
I've decided to try and read at least one book about blogging every month and implement what I've learnt to help grow my blog.
In August I read How to Blog for Profit – Without Selling your Soul by Ruth Soukup.
I've seen this book advertised on other blogs so many times in the last year and I can't believe it's taken me this long to read it. It's brilliant! I literally read it in two days because I couldn't put it down.
My takeaways from the books were:
Developing a clear plan for your blog with an overarching theme and sub topics
Having popular posts in your sidebar
Introducing underwritten posts as a way to earn income
I added images for my popular posts in my sidebar and used a Google Campaign URL to track the clicks and those images are driving people to those posts every day.
I've also started offering underwritten posts and have published (and been paid for) one already.
I definitely recommend Ruth's book, which is available over on Amazon in paperback or Kindle. I actually read it on my Kindle for free, because it's available as part of the Amazon Prime Lending Library! How great is that?
We have Amazon Prime so we get free one day shipping and so the kids can watch Thomas episodes in the playroom, and now I get to read 12 blogging books a year without spending a penny. You don't even need a Kindle to read the free Kindle books because you can download an app to your phone, tablet or computer.
If you're a member of Amazon Prime already just look up Ruth's book in the store via your Kindle or Kindle App and you should be able to borrow it. If you're not an Amazon Prime member already you can find out more about it here.
Google Demographics
At the end of August I made an exciting discovery as I unlocked some hidden gems in Google Analytics. If you haven't unlocked the Demographics report then run over to this post here where I share how to do it.
During September I'm going to be looking at that information in more detail to understand the kind of content my readers want to see and what sort of products they are interesting in buying. I think that Google Demographics report is key to increasing page views and income.
What are your blogging goals for September?
I'm planning to keep working on my traffic to see if I can keep those daily page views above 2,000 consistently, and keep trying to encourage people to fall in love with my Facebook page (including Facebook!)
What are your goals for blogging September? Leave me a comment and let me know.
If you want me to drop you an email when I publish next month's report, or if I share any blogging related posts in the mean time just stop your email address in the box below: